Court certified Korean interpreters
Koreaninterpreters.net located in Los Angeles, New York City and Seoul has the list of 60 Korean court certified interpreters and 50 non-certified Korean interpreters.   Our Korean court certified interpreters have proven successful in major patent and intellectual property litigation, banking and financial litigation, as well as various kinds of technical litigation in the U.S. and in Korea. If you have depositions in Seoul, please call us and we will send you a court certified interpreter.
Here is Junhui Park, our court certified Korean interpreter. See also the resume of Gene, our court certified Korean interpreter.
Junhui Park, PhD
Certified Korean Legal and Medical Interpreter/Translator
English to Korean, Korean to English
High profile technical cases, International litigation, Intellectual property cases
State of California Certified Court, Administrative Hearing, and Medical Interpreter in Korean/English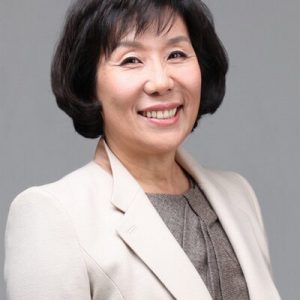 "There is nobody to match Dr. Joo's mastery of Korean and English. She is a writer and professor in both  languages and spent a half of her life in Korea, and another half in the U.S. You can depend on her to provide 
Korean to English
, and English to Korean translation of the highest accuracy.  She lectured on court interpreting at our university, and I was deeply touched by her mastery of Korean translation and interpreting.  She is a born interpreter. " Kwak Joong Chul, Professor of Interpreting, Hankook University of Foreign Studies, Korea
"She is simply the best Korean court interpreter I know. Junhui worked on very technical intellectual property cases, and have provided high quality interpreting for depositions and trials. Not only is she very professional and reliable, but she is also possessed of sparkling, light-hearted personality that makes for good relationship with others." Dana, Sheppard Mullin, Richter & Hampton LLP
"Junhui not only facilitated communication between us and our counterpart Samsung SDI, but also facilitated negotiation at our meetings in Seoul. She is always our first choice of interpreters." Stephen,  KoolSpan
"Having suffered from interpreters who spoke fluent English but needed much improvement in Korean, it was such a relief to have Junhui for our case between two major firms in Korea and the U.S.  Being a 1.5 generation Korean, I could tell Junhui is a truly bilingual and bicultural interpreter with highest accuracy humanly possible.  I recommend her highly for technical legal cases that require accuracy and intellectual understanding of the subject matter." Dale, Park and Lim Law Offices
QUALIFICATIONS
State of California court certified interpreter #300733
U.S. Federal Court Approved interpreter
Professional conference simultaneous interpreter
Certified Korean to English, English to Korean translator
Registered with the U.S. District Court, Central District of California
Registered with the Superior Court of California, Los Angeles
Registered with U.S. Department of Justice
20+ years of experience as certified court translator and interpreter. Specializes in simultaneous interpretation
PhD in Politics
Professor of Court and Medical Translation and Interpretation at LA Institute of Translation and Interpretation since 2003
EDUCATION

EMPLOYMENT

Professor of Court Interpreting, L.A. Institute of Translation and Interpretation, Los Angeles, California
Independent Contractor Interpreter, County of Los Angeles Superior court and U.S. Federal District Court;
Free Lancer Interpreter and Translator of Civil Trials
Professor of Asian Studies, Asia United Theological University, Korea
Senior Researcher, Korean Women's Development Institute, Korea
Assistant Professor of Politics, Emory University, Atlanta, Georgia, U.S.A.
RECENT TRANSLATION AND INTERPRETING ASSIGNMENTS
– Trial documents of a criminal case on Embezzlement and Breach of Trust involving a prominent mobile communication company
– Swarovski Brand Designated Manufacturer Agreement and Brand Logo License Agreement
– Daum Games , Item Bay, Bigpoint Games Channeling Agreement
– Rhinox – Hats On Trial Documents and Settlement Agreement
– Eland Shareholders Agreement
– Trial documents involving Jinro America and Hite USA
– Registered patent: A Biological Composite for Prevention and Treatment of Post-weaning Multisystemic Watig Syndrome in Weaning Pigs
– Registered patent: A method of coating kitchen utensils
– Cysco PIM multicast routing GigabitEthernet Interfaces Gigabit Etherchannels
– Interpreted for Kimho Tire USA product liability case
– Interpreted for business transaction between Samsung SDI and
– Simultaneous interpretation of Wonder Girls Concert, PJY Entertainment, 
Los Angeles
, California
– Simultaneous interpretation of North American Cable TV conferences, Convention Center, 
Los Angeles
, Ca
– Simultaneous interpretation of Symantec computer security conference, MGM, Las Vegas
– Hewrett Packard webinar on new software
– State of Union Speech by President Barak Obama
– Simultaneous interpretation of Paralos Ninos community conferences, 
Los Angeles
, California
– FBI regional conference, 
Los Angeles
, California
– TFT-LCD Antitrust Litigation involving Samsung and LG
– Korean Export Insurance Corporation v. Korea Data Systems
– Postive Technologies Inc. vs. LG Phillips LCD Co., LTd et.al.
– U.S.A. versus Kyung Joon Kim
– DAS vs. Kyung Joon Kim
– John Park vs. Korean American Federation of 
Los Angeles
– Ericsson INc. et.al vs. Samsung Electroncis Co. Ltd. et.al.
Call us at 213-387-3124 for your needs to find Korean interpreters in Los Angeles CA, Orange County CA,  Irvine CA, San Diego CA, New York NY, Chicago IL, San Francisco CA,  Miami FL, Atlanta GA, Washington DC, Houston TX, Las Vegas NV, New Jersey NJ, Boston MA, New Haven CT,  Seattle WA, Oregon, Vancouver BC Canada, Toronto Canada, Arthur Canada, Seoul Korea, Pusan Korea, Anyang Korea, Bucheon Korea, London UK,  and all over the world.