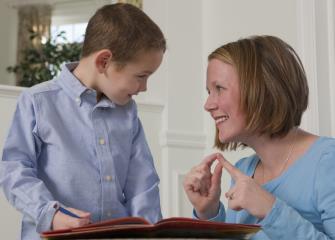 Interpreters and translators convert information from one language into another.
Interpreters and translators convert information from one language into another language. Interpreters work in spoken or sign language; translators work in written language.
Interpreters work in schools, hospitals, courtrooms, and conference centers. Many translators work from home. Self-employed interpreters and translators frequently have variable work schedules. Most interpreters and translators work full time during regular business hours.
Although interpreters and translators typically need at least a bachelor's degree, the most important requirement is to have native-level fluency in English and at least one other language. Many complete job-specific training programs.
The median annual wage for interpreters and translators was $45,430 in May 2012.
Employment of interpreters and translators is projected to grow 46 percent from 2012 to 2022, much faster than the average for all occupations. Employment growth will be driven by increasing globalization and by large increases in the number of non-English-speaking people in the United States. Job prospects should be best for those who have professional certification.
Compare the job duties, education, job growth, and pay of interpreters and translators with similar occupations.
Learn more about interpreters and translators by visiting additional resources, including O*NET, a source on key characteristics of workers and occupations.
Become a nationally certified medical interpreter
By John Park
There is a large demand for bilingual professionals in the field of medical interpretation in Southern California. A medical interpreter is a rewarding job. You make a competitive income and help people as well. It is a freelance job. You don't have a boss, no investment is required, all you need is your bilingual background and you simply complete a 40-hour training program in medical interpretation.
A freelance certified medical interpreter is paid about $30-50 an hour, depending on the job. One way to become a nationally certified medical interpreter is to be admitted to the LA Institute of Translation and Interpretation program, receive a certificate of 40-hour medical training, and then, since LA Institute of Translation and Interpretation is registered with International Association of Medical Interpreters, you are qualified to take their test and become nationally certified. There are many agencies that refer jobs for medical interpreters, and you can make between $30,000-70,000 a year, depending on what medical center you work for, your experience and credentials. According to the Bureau of Labor statistics in 2008, the middle 50 percent of medical interpreters earned from $28,900 to about $52,200 annually. The school also has a subsidiary company that refers jobs to medical interpreters.
The Spanish instructor Anabella Tidona has BS from University of Buenos Aires, Argentina, a Diploma in Conference Interpreting and is a California Court Certified Spanish interpreter. She has worked as a Spanish medical interpreter for Cedars Sinai Medical Center and Venice Family Clinic.  The Mandarin instructor Jia Wei is a certified medical interpreter and has provided medical interpreting for over 10 years.  The Korean instructor Daniel Kim is a certified adminsitrative hearing interpreter for the State of California, and Dr. Junhui Park is a court and medical certified interpreter with extensive knowledge in the field.
LA Institute of Translation and Interpretation is conveniently located in downtown Los Angeles and parking is free. Classes start at the beginning of January, 2015. For more information, call 866-327-1004 and ask for John