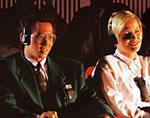 Experience
11/2006 – Present     Imagescholar, Inc.     Los Angeles, CATranslatorTranslate English Student Evaluation Forms written by tutors of the tutoring company, Imagescholar, Inc into Korean and submit them via internet.
6/2003 – 9/2003                  Private Tutor          Northridge, CAPrivate TutorAssisted two students with SAT I Math and English.Presented effective problem-solving strategies on both subjects.
Education
2002 – Present                 University of California, Riverside    Riverside, CACurrently majoring in Asian Literatures and Cultures under Chinese track.1998 – 2002                     Granada Hills High School    Granada Hills, CAGraduated with High HonorsInvolved in Korean student counseling group, Impact conducting session primarily in Korean.
Activities
Student bible study group leader, Korea Campus Crusade for Christ, 2003 – Present
Tips
Emigrated from Korea in 1998.
Fluent in both Korean and English
(Korean: native, English: near native)
Aware of both Korean and American cultures.
Other Korean Translation pages
Translate Korean to English Translate English to Korean Korean to English translation
English to Korean translation Korean to English translator English to Korean translator
Korean translator in Los Angeles
Articles related to Korean Translation
Translate Korean financial statement into English
English to Korean translation of legal vocabulary
Vocabulary for English to Korean medical translation
Download Korean English dictionary for iPhone, iPad, iPod